Meet Dr. Brian Shuman DMD
Dr. Brian Shuman grew up outside of Boston, playing sports and watching his father practice periodontics in Brookline, MA. His childhood interests stuck with him through his time at Haverford College. He graduated in 1978 after majoring in biology, captaining the varsity soccer and baseball teams, and playing tennis. He was named MVP of his soccer team; he received both the Docherty award for sportsmanship, and the Haverford College Varsity Cup, which is given to the top scholar-athlete in the school. He was also selected as a member of the USA soccer team for the 1978 U.S. Maccabiah Games. In 2013, he was selected to the Mid-Atlantic Conference All Century Soccer Team.

After graduating, he decided to pursue his life-long dream of following in his father's footsteps by practicing periodontics. He first attended the University of Pennsylvania School of Dental Medicine, followed by the University of Pennsylvania School of Periodontology. He graduated in 1985 and immediately moved to Burlington to begin his career at Associates in Periodontics.

Today, Dr. Shuman dedicates himself to providing his patients with unparalleled care and personal attention: "My staff and my patients are my second family." He believes in providing the highest quality care dentistry has to offer. In order to do this, he is always educating himself and staying on the cutting-edge of technology.

Dr. Shuman believes strongly in teaching and giving back to the profession. Committed to this philosophy, he has served more than 25 years as Chairman of Vermont's Board of Dental Continuing Education. He also serves as the Dental Consultant for oral appliances at the Fletcher Allen Hospital Sleep Center and as Chief Supervising Dentist at the Vermont Tech School of Hygiene. In 2014, Dr. Shuman received the Distinguished Service Award for exemplary leadership and dedication of his time and talents to the betterment of the profession and to the dental health of the people of the state of Vermont. This is the most prestigious award given by the Vermont State Dental Society and was last awarded in 2009.

He has been elected to, currently serves, or has held positions on numerous professional boards and committees, including:
Chairman of the Vermont State Dental Society Board of Continuing Education
Co-Chairman Vermont Special Olympics Dental Division
Vice President of the Vermont Periodontal Society
Chairman of the Vermont State Dental Society Annual Meeting Education Board
Chairman of the Vermont Tech School of Dental Hygiene Advisory Board
Chief Supervising Dentist at the Vermont Tech School of Dental Hygiene
Trustee of Northeast Delta Dental Board
Chairman of the Northeast Delta Dental Professional Relations Committee
Chief Periodontal Instructor at the University of Vermont Hospital Dental Residency
President, Vice President and Treasurer of the Champlain Valley Dental Society
Trustee of the Vermont Oral Health Coalition Board
Member of the Vermont State Diabetes and Oral Health Advisory Board
State of Vermont Liaison to The American Dental Association Center for Evidence-Based Dentistry
Dental Consultant for Oral Appliances at the Fletcher Allen Hospital Sleep Center (Dr. Shuman himself had sleep apnea and snoring, which has been cured with an oral appliance)
Educator and Lecturer at the Vermont Tech School of Dental Hygiene, The Essex Tech School of Dental Assisting and The Fletcher Allen Hospital Dental Residence
United Way Building Block Award recipient for his volunteer efforts with the Special Olympics, specifically his co-chairing of the Special Smiles Program
Received the Vermont State Dental Society Distinguished Service Award in recognition of his commitment to the betterment of his field and to the oral health of Vermonters in 2014
Outside of dentistry, Dr. Shuman loves spending time with his daughters, Alexx (a graduate of Smith College and The New England Culinary Institute), Meika (a student at South Burlington High School), his wife Cindy (former CEO and CFO at several corporations) their labradoodle, Thunder (current office mascot), and their rescue pup Cowboy. He also dreams of someday having a single digit golf handicap, enjoys tennis, reading, anything tech-related, and is an avid Boston sports fan through the good times and the bad.

Dr. Shuman strives to live by his motto: Your reputation is based on the choices people think you make. But your character is based on making the right choices, at the right time, for the right reasons, regardless of the personal consequences.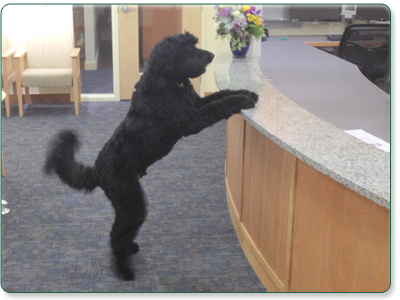 Thunder, Dr. Shuman's labra-doodle, is the first visitor to the new office: "Hey, I need my canines evaluated, please."
Visit Dr. Shuman on Google+