December 10th, 2014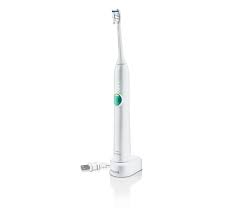 It's that time of year again! Snow on the ground, Christmas trees in the living room, menorahs on the dining room table, Sonicare EasyClean electric toothbrushes on sale at Associates in Periodontics… wait, what? I'm excited to add to the list of holiday traditions by announcing our annual Sonicare sale! We have them for $60.75 (plux tax), which is about $30 off of retail price at Best Buy, Bed, Bath & Beyond, and other major retailers.
Sonicare uses unrivaled Sonic technology to keep your teeth and gums healthy. It makes 31,000 brush strokes per minute, compared with a manual toothbrush, which moves at around 300 brush strokes per minute. That means two minutes spent brushing with a Sonicare is equivalent to about a month spent using a manual toothbrush. It's a great way to make sure you're getting the most out your time! Studies have even shown that Sonicare removes significantly more plaque than a manual brush, and that using a Sonicare can improve gum health in as short as two weeks.
If you're not convinced: this is the toothbrush I use and I recommend – it's straightforward and gets the job done right.
Not only is it a great deal, a great gift for the holidays, and a great way to maintain your oral health in the coming year, but it is also a great way to give back to our community. For each Sonicare sold, I will personally donate $5 to the Vermont Foodbank. I can't wait to let you all know what the contribution ends up being.
Stop by the front desk at your next appointment to pick one up, or just swing by either of our offices (1775 Willston Road, South Burlington or 248 South Main Street, Barre) to take advantage of the offer. You can also email me at keepyourteeth@hotmail.com to reserve one (or two!) if you can't make it in right away.
The offer is good through January 1st, 2015. Spread the word, tell your friends, and let's make our donation an impressive one!
May the floss be with you this holiday season!
Brian