August 25th, 2015
In the American Academy of Periodontology's recent national survey, more than a third of Americans admitted they would rather sit in traffic or even clean a toilet before committing to flossing daily. In an ideal world, toilets would clean themselves, sitting bumper to bumper at the dreaded 5-Corners in Essex would be a thing of the past, and we could all maintain good oral hygiene without having to use floss.
While the first two are likely to remain pipe dreams for the foreseeable future, the 2014 XI European Workshop on Periodontology recently came to a surprising consensus on flossing that will change the way you clean between your teeth forever.
Leading researchers reviewed the literature and found that flossing is not the most effective prevention method when it comes to fighting periodontal diseases. In fact, the experts determined that there's a new Periodontal Disease Prevention Sheriff in town: the interdental brush (also known as the proxy, spiral, or interproximal brush)!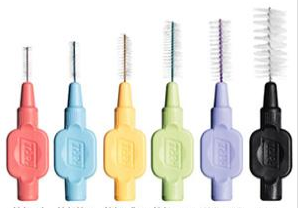 Evidence shows that by using the correctly sized interdental brush, you'll see greater plaque reduction and improved disease prevention than by using floss alone. As if that's not motivation enough for you, interdental brushes are easier to use than their somewhat unwieldy counterpart! Coming in many shapes and sizes, this prevention method lets you say "so long!" to floss for any site that can fit an interdental brush instead.
Many of you have already integrated this highly effective tool into your oral health routines, and we here at AIP have already seen the stellar results. For those of you who haven't given the interdental brush a try yet, be sure to ask me, the staff, Dr. Levi, or Dr. Gruwell about the benefits at your next appointment!
Brian