July 26th, 2016
As you can likely tell from the new technologies always popping up in the office, the conferences I'm attending, and the publications I'm reading, I'm always striving to ensure that the care you receive when you come into AIP is better every time. I try to bring that same approach to the Healthy Athletes Program each year at the Vermont Special Olympics. As soon as the event comes to a close, I start contemplating how we can make it even more useful for the athletes next time around.
For example, in years past we performed oral hygiene techniques on puppets for the athletes, but Dr. Levi's words popped into my head, "That that's like trying to teach you how to play the piano by watching me do it, but never asking you come over to the bench and try it yourself." For one, you're going to get tired of me playing Chopsticks and Heart & Soul pretty quickly, and further, it's going to be a real challenge for you to do it well on your own at home without the tactical experience of hitting the keys yourself. For that reason, we implemented hands-on, one-on-one brushing and flossing trainings with volunteer professional hygienists and dental assistants. We observed as the athletes demonstrated their ability to brush and clean between their teeth, then we offered tips, tricks, and techniques for each athlete to try out. I look forward to seeing all the athletes again next summer and checking in on how the trainings impact their oral health this year.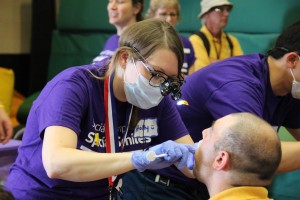 I was thrilled to host the largest number of volunteers to date: 12 dental students from Tufts, 2 from the University of Buffalo, 10 dental assisting students from Essex TECH, 6 dental hygiene students from VTC, 10 volunteer dentists, 5 dental hygienists, and 15 additional volunteers. I'm extremely grateful to everyone for dedicating their time and talents. With their help, we were able to screen a record 157 athletes.
The Special Olympics is an event I look forward to every summer. And it's one that I not only get to share with my seasoned colleagues, dental students up-and-coming in the field, and the wonderful athletes themselves, but also with my daughters. Before Alexx left Vermont to do that "growing up" thing (what's up with that?), she would join me every year. She said: "I have vivid memories of immediately forgetting how warm it was under the tent the moment the athletes started streaming in and the day flying by. I could always count on a fun exchange, a rush from being around people who've just achieved something big, and an immense sense of gratitude at the end of the day." Now, it's an event I get to share with my 15 year old Meika, who shared, "It's a fun thing to experience because helping out makes you feel good. Everyone is so nice and respectful and it's always nice to make someone smile. I really look forward to it every year!"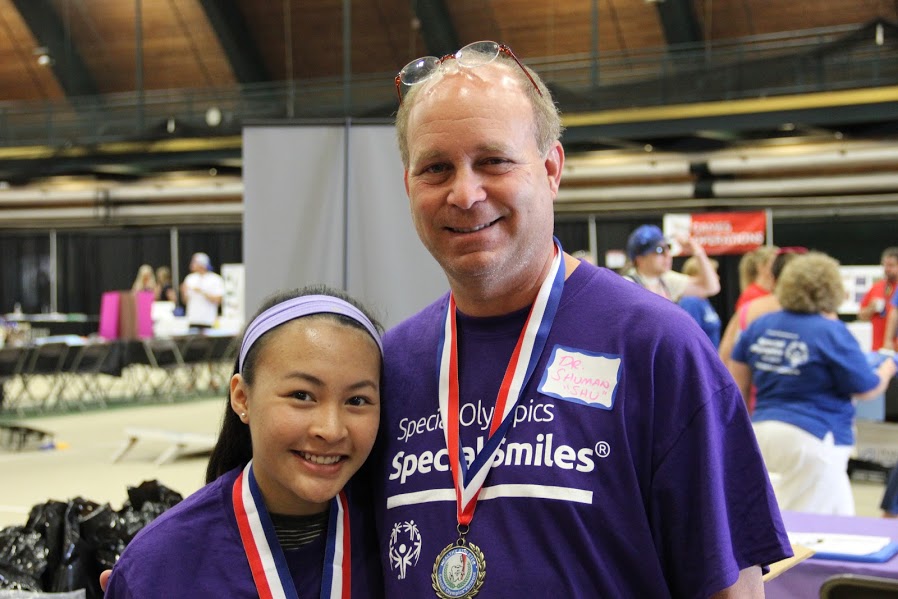 Images by Diane Dumas.