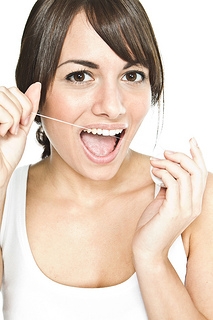 All of us at  Associates in Periodontics understand the diagnosis of periodontal disease can be scary and confusing.  But the good news in most cases is that it is treatable and manageable with a little work from you and a little help from us.
Periodontal disease is an infection that affects the gum tissue, bone, and supporting structures for the teeth. In the past it was known as pyorrhea. Diagnosis is commonly made through a combination of dental X-rays, periodontal readings (called probing depths), and visual clinical findings.
The mouth is a gateway to the rest of the body and can provide clues to your overall health. In fact, the first signs of some chronic diseases appear in the oral cavity; they can be a hint for the dentist to refer the patient to a medical doctor for a thorough exam.
If left untreated, periodontal disease can lead to premature tooth loss, sensitivity, and chronic or acute mouth pain. If you have diabetes, you are more prone to periodontal disease and can experience greater difficulty controlling your blood glucose levels. The body ends up spending so much energy fighting the infection in the mouth that it cannot achieve balance elsewhere. Studies have shown that once periodontal disease is treated, the glucose levels become more responsive to control.
Standard treatments basically involve cleaning out the infection and allowing your body to heal. There are many tools and techniques to clean out the infection including scaling and root planning, laser therapy, antibiotic therapy and surgery
We always give you an accurate diagnosis and a range of treatment options. Periodontal disease is "silent," which means you will not always experience pain as a signal of infection. When caught early and subjected to proper oral hygiene care on a daily basis, treatments are generally very successful.
Brian
Brian Shuman DMD
Leave a Reply