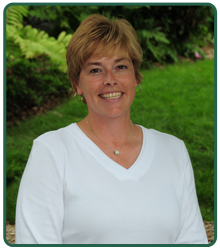 Today's Staff Spotlight shines on Kim Couture.
Kim has been with Associates in Periodontics (AIP) for 12 years. Her role, as she describes it, is to be an "ambassador between patients and the office. Mainly focusing on patients and advocating for them."
Kim's favorite things about working for AIP are the laughter and the great rapport she has with patients and colleagues. Kim believes her co-workers are the most dedicated, caring group of people she's ever had the pleasure of working with. She describes her patients as "kind and caring." "Our team goes the extra mile everyday for our patients. We love what we do and it shows!"
When Kim is not at work, she enjoys gardening and reading. She also helps out with her children's sporting teams and volunteers for her church.
Leave a Reply