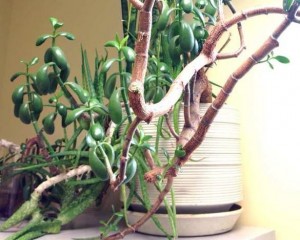 Lessons can be learned in various ways: personal, academic, professional. Or, in the aftermath of our September 2011 fire, from a 35 year old jade plant. This begs a little background information first.
Originally native to South Africa, it was known as the friendship tree and lucky plant. Travelers marveled at its fleshy, tear-shaped leaves, rich emerald color and ease of propagation. It required low maintenance, benefited from the occasional pruning, while having an extremely long life-span. Its popularity as a houseplant grew as slips were carried worldwide.
Dr. Levi acquired one and it sat on a ledge in the back of our office for 35 years. With a little water and a lot of sun, it became the size of a medium shrub. Over the years it became a part of who we were. Welcoming, enduring and lucky! Who would have thought it could have survived the fire. But there it sat, a little dry, a little singed, firmly holding on, removed from the debris by Dr. Shuman and nurtured back to life again in his garage.
With the re-birth of AIP, it is an apt analogy. Our office endured through adversity with the luck and tenacity of a jade plant. We have our roots planted deeply into our community and have successfully survived; a little dry, a little singed, but now stronger and better than ever before.
Leave a Reply